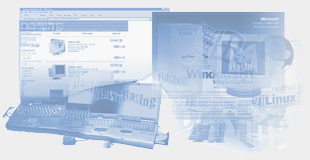 Activity Presentation
Basing is developing our own business software, mostly for small and medium sized companies, as well as home office firms, that want to accelerate their businesses, and lower costs of software. We also offer build software to order.
We are selling desktop computers built to order, selling and installing components to computers. We also sell notebook computers of all major brands. Along with building and configuring servers, we are also offering support for installation, fine tuning of servers and remote administration. Main focus in servers is Linux operating system. Along with server installation we can also build your network infrastructure, including wired or wireless networks.
Internet services include web desing, domain name registration, domain and web hosting and forwarding. Besides web design we offer design and digital printing.
We offer service and support on your location and maintenance contracts.